In a paper published in the open-access journal Plos One, scientists describe the new monkey species that they call Cercopithecus Lomamiensis, known locally as the Lesula, whose home is deep in central DR Congo's Lomami forest basin.  It is only the second discovery of a monkey species in 28 years.
"We never expected to find a new species there," says John Hart, the lead scientist of the project, "but the Lomami basin is a very large block that has had very little exploration by biologists."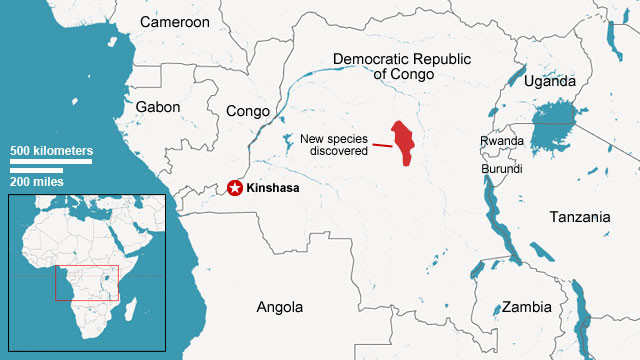 New monkey's home territory
Hart says that the rigorous scientific process to determine the new species started with a piece of luck, strong field teams, and an unlikely field sighting in a small forest town.
"Our Congolese field teams were on a routine stop in Opala," says Hart, "it is the closest settlement of any kind to the area of forest we were working in.  The team came across a strange looking monkey tethered to a post. It was the pet of Georgette, the daughter of the local school director.  She adopted the young monkey when its mother was killed by a hunter in the forest. Her father said it was a Lesula, well-known to hunters in that part of the forest."
The field team took pictures, showed them to Hart, who said, "right away I saw that this was something different. It looked a bit like a monkey from much further east, but the coloring was so different and the range was so different."
What an exciting discovery…. it's facial features are truly striking.
Happy Monkday.
http://www.cnn.com/2012/09/12/world/africa/dr-congo-new-monkey/index.html